Moody's has been highly accurate in predicting the outcome of elections dating back to 1980. The only time the company was incorrect was in 2016, when it predicted Hillary Clinton would narrowly win.
Three different economic models employed by the analytics agency suggest that Trump's Electoral College victory is on course to surpass the 304-227 count that secured him victory over 'Crooked' Hillary.
The projections are based on economic factors, specifically how confident consumers are with their financial situation.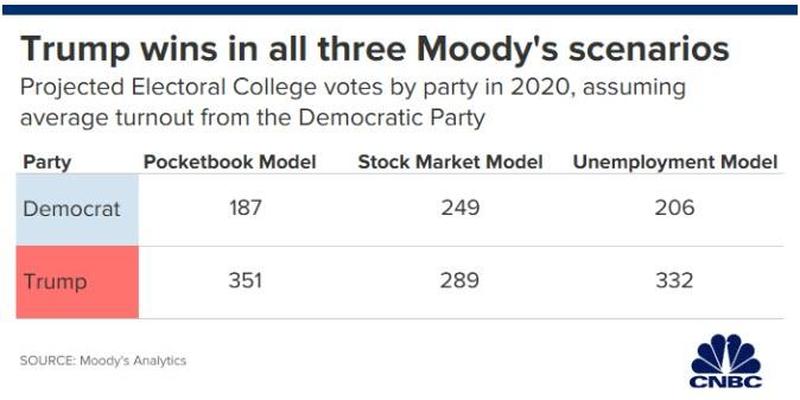 They're already starting to use words like "steamroll". Remember,
you heard it here first
.
UPDATE:
In related news, the God-Emperor's DOJ
announces a massive blow
against the Swamp:
South Korean National and Hundreds of Others Charged Worldwide in the Takedown of the Largest Darknet Child Pornography Website

Dozens of Minor Victims Who Were Being Actively Abused by the Users of the Site Rescued

Jong Woo Son, 23, a South Korean national, was indicted by a federal grand jury in the District of Columbia for his operation of Welcome To Video, the largest child sexual exploitation market by volume of content. The nine-count indictment was unsealed today along with a parallel civil forfeiture action. Son has also been charged and convicted in South Korea and is currently in custody serving his sentence in South Korea. An additional 337 site users residing in Alabama, Arkansas, California, Connecticut, Florida, Georgia, Kansas, Louisiana, Maryland, Massachusetts, Nebraska, New Jersey, New York, North Carolina, Ohio, Oregon, Pennsylvania, Rhode Island, South Carolina, Texas, Utah, Virginia, Washington State and Washington, D.C. as well as the United Kingdom, South Korea, Germany, Saudi Arabia, the United Arab Emirates, the Czech Republic, Canada, Ireland, Spain, Brazil and Australia have been arrested and charged.
No wonder they wanted so desperately to impeach him. The noose around them just keeps inexorably tightening. And remember, Pizzagate is totally debunked because an actor filed a single shot at a computer....