Science fiction grandmaster and classic comics aficionado John C. Wright contemplates the results of a minor Marvel villain, Stilt-Man, facing off against Marvel's new superhero team, the new New Warriors (2020 SJW edition). Read the whole thing there.
Let us say Stilt-Man has decided to rob a helicopter. Let us moreover say that Screentime uses his power of the netsurfing to come across a police bulletin, twitter post, or cellphone selfie showing the crime in progress.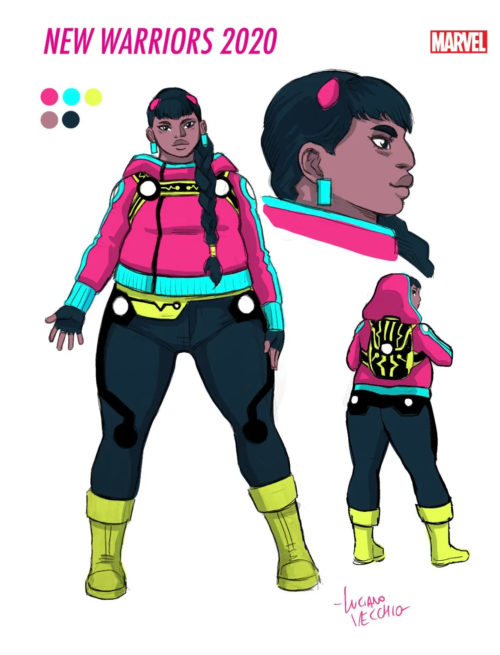 Perhaps the crime takes place very nearby to the Old Folk's Home where Fat Chance, the diversity hire orphan girl, is pulling cakes and pastries out of her god-given backpack (not the god you are thinking of, however) to share with the elderly and unloved senior citizens. They watch in awe as she consumes whole peach pies in one gulp.
Now, according to the official Marvel continuity, vigilante activity is illegal in the United States, and the government has passed 'Kamala's Law' making teenagers doing vigilante activity even more illegal. So the teen heroes don their supersuits, and the bold yet chubby leader dons her double plus extra large sized supersuit. Not a single one of them wears masks or otherwise hides his identity. Except for Safespace, who does not wear a mask mask to hid 'their' identity.
So Fat Chance, the leader, waddles to the scene, puffing!
Meanwhile, Snowflake and Safespace are embracing each other with undue intimacy for a brother and sister (but it is perfectly fine, since the sister is neither male nor female, so technically she is his sibling, but not his sister). They see the Fat Signal, which Fat Chance pulls from her god-given backpack (not the god you are thinking of, however).
The amazing powers of Snowflake do not allow her to create a giant slide made of ice, like Iceman, nor to fly, like Snowbird, so she and her brother just run there. Fortunately, despite his girl hips and lack of muscle tone, he is a stereotypical jock, and get there while the crime is still in progress!
Screentime uses his power of internet connection to hire an Uber. In this case, the driver is Willy Lumpkin, the mailman for the Baxter Building, doing odd jobs to pick up some extra cash in his off hours
So the combat is joined!
Fat Chance rummages into her god-given backpack (but it is not the god you are thinking of) and pulls out a tuba, or perhaps a tortoise shell, or a taco, or a tape recorder, or a tea set, or a tricycle. But let us say, against all odds, she pulls out something useful, like a Tommy gun, and opens fire. Her flab wiggles and flaps in an alarming yet unsightly fashion from the jarring recoil of the hammering gunfire!
At the same time, Snowflake creates a dozen whirling, razor sharp crystal shuriken, and throws then with the full strength of her non-binary arm!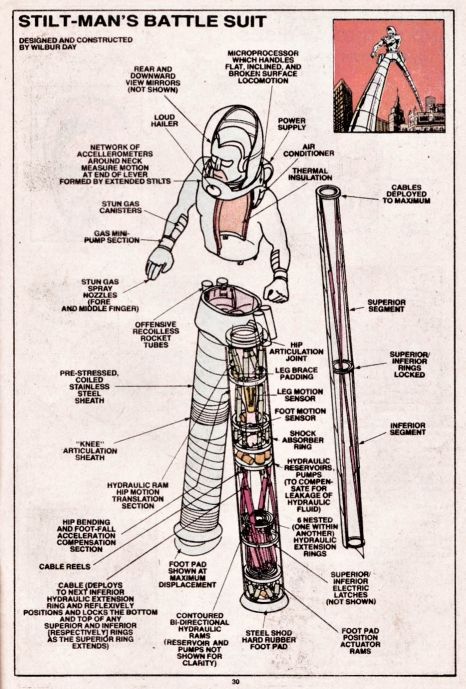 Screentime gets out of the Uber car and pays the driver, Willy Lumpkin, using Paypal, a convenient service that allows one to pay for goods and services over the internet! And, uh, he looks up information on Wikipedia about Stilt-Man or something, diagramming the battle suit.
Then B-Negative finds a convenient updraft, and launches himself skyward, closing with Stilt-Man, his bad attitude of which he has proud ownership displayed in his nonchalant yet abrasive teen demeanor!
Stilt-Man can detect the attack with his rear and downward view mirrors (not show in the diagram above) and can duck under the initial swoop by quickly retracting his legs!
The Stilt-Man armor was seen to be bulletproof in its first appearance back in Daredevil comics. The non-binary arm of the shuriken throwing sexual deviant cannot possibly top a thirty-story building, nor strike harder than a bullet. So both the snowflake-shaped crystal shuriken and the Tommy gun (or whatever) pulled out of the god-given backpack (not the god you are thinking of) simply bounce off.
And they do not bounce off Stilt-Man's chest, by the way. A Tommy gun's effective range is about 300 feet when fired level, less so when fired straight up, so the man himself is out of range. Shuriken and bullets alike are bouncing from the lower or upper segments of his stilts.
Then Stilt-Man steps on Fat Chance.
But let us say her life is saved by Safespace, who has enfolded her instinctively in a pink force field, which can protect others but not himself. So Stilt-Man steps on Safespace instead, with a hydraulic ram able to smash through a brick wall. Now, the information says Safespace can protect others, so if he casts his pink bubble of protection around the beached-whale bulk of the team leader, he can hide in her voluminous and extensive shadow, safe from attacks issue from that quarter to that half of the horizon. But, alas, Stilt-Man is the one villain able to step over the massive flesh blob of the leader, and approach the unprotected Safespace from above.
Our stereotypical jock with his girlish hips and Bambi eyelashes is not noted for having the super senses and reflexes of Daredevil, nor the spidersense of Spider-Man, and so he gets pounded into the pavement like a tentpeg and will spend the next fifteen issues in a full body cast, while every bone in his body except his left ulna are mending.
With Safespace out of the way, the force-field goes away, and Stilt-Man punts the fat girl and the non-binary ninja wannabe across Times Square with one sweep of his stilt-legs that can overturn a truck.
Ah, but the kid who is not Morbius joins the fray!
His superhuman strength is … wait for it … exactly the same as Stilt-Man's in his armor. And his speed when he glides is … wait for it … exactly the same as Stilt-Man's with his legs extended. But Stilt-Man is armored and B Negative is not. So Stilt-Man simply clocks him from fifty yards away with his telescoping fist which is strong enough to shatter brick walls.
If that does not work, Stilt-Man shoots him with knock out gas, and the teen bloodsucker with bad attitude plummets to the ground thirty stories, also crushed into jelly and with all his bones broken. But he can regenerate from wounds, so he will eventually get better.
He will rise again, and give chase. But, as was before said, since Stilt-Man travels at the same speed on his Stilts as the glider wings of Morbius (and presumably, Morbius lite here), Stilt-Man carrying the loot from the robbed helicopter stilts away on his long legs.
Meanwhile, Screentime is watching nonbinary incest porn on the internet. Stilt-Man does not bother to step on him, because how would he even know Screentime is on the superhero team?
Labels: comics, SJW, trainwreck